Shopping Cart
Your Cart is Empty
There was an error with PayPal
Click here to try again
Thank you for your business!
You should be receiving an order confirmation from Paypal shortly.
Exit Shopping Cart
     Over the years I have had a desire to live on a farm and go back to a simple way of living.  I have always admired the life that my grandparents, Clyde and Marie Walters, lived.  They were very simple people, living simple lives on a farm.  Over the years they raised chickens, had cows, several horses and seemed to always have a liter of puppies.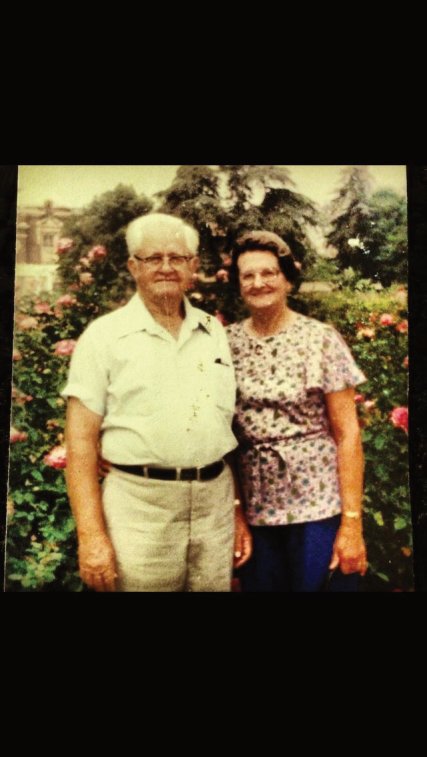 I have witnessed my grandmother catch a chicken, wring it's neck and fry it up for lunch.  During the summer, they would take us fishing, teaching us how to bait our hooks with worms and how to take our fish off the hook. We would bring our catch to the house in a metal bucket, scale the brim with a spoon and she would fry it up for supper.    
     They always had a garden in the summer and many summers we sat under the gigantic pecan tree and shucked corn and shelled peas to put in the freezer.   The garden was full of all kinds of vegetables and they worked really hard to put their harvest in the freezer and also shared with friends and family.  There were figs, apples, pears, and pecans to harvest as well.  Fig preserves, fried apple pies, canned pears and pecan pies were some of the things grandmother did with her produce.
     As a little girl it was always exciting to be at their house when they killed a hog.  Everyone was busy.  I didn't really pay much attention to the details but I can still remember the cold, cold weather and the hustle bustle to get the hog butchered and processed to put in the freezer.  Granddaddy had a smoke house so of course he smoked some of the meat. 
     God has blessed me once again by allowing me the opportunity to purchase my grandparent's farmhouse.  Living in this farmhouse is awesome. Every morning I look out my kitchen window over the garden spot that they used all those years.  The old barn is still standing and I love to close my eyes and reminisce climbing up in the loft and playing for hours with my cousins.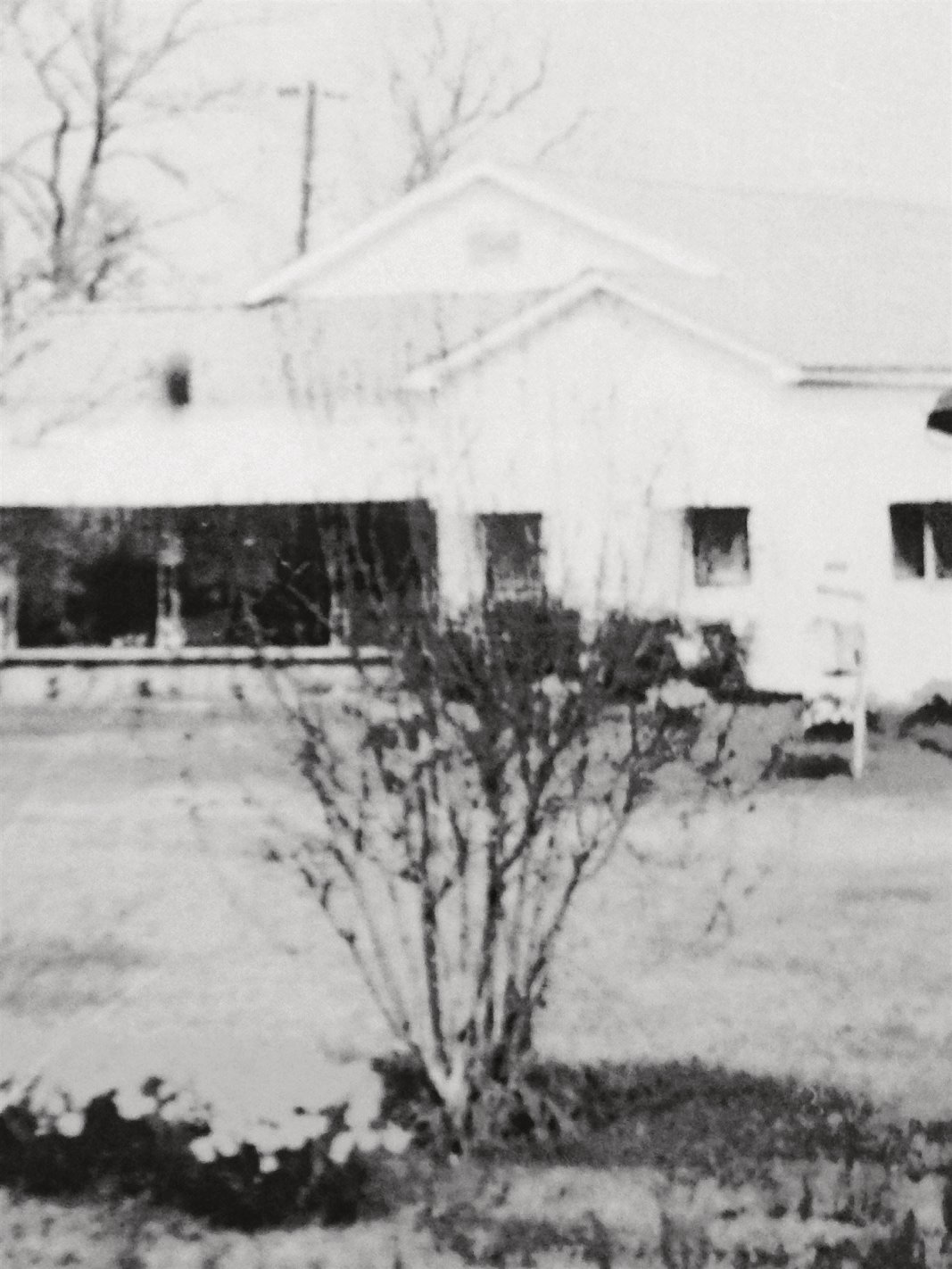 I never dreamed I would be able to live in this house.  It is lining up with my dream to live the simple life.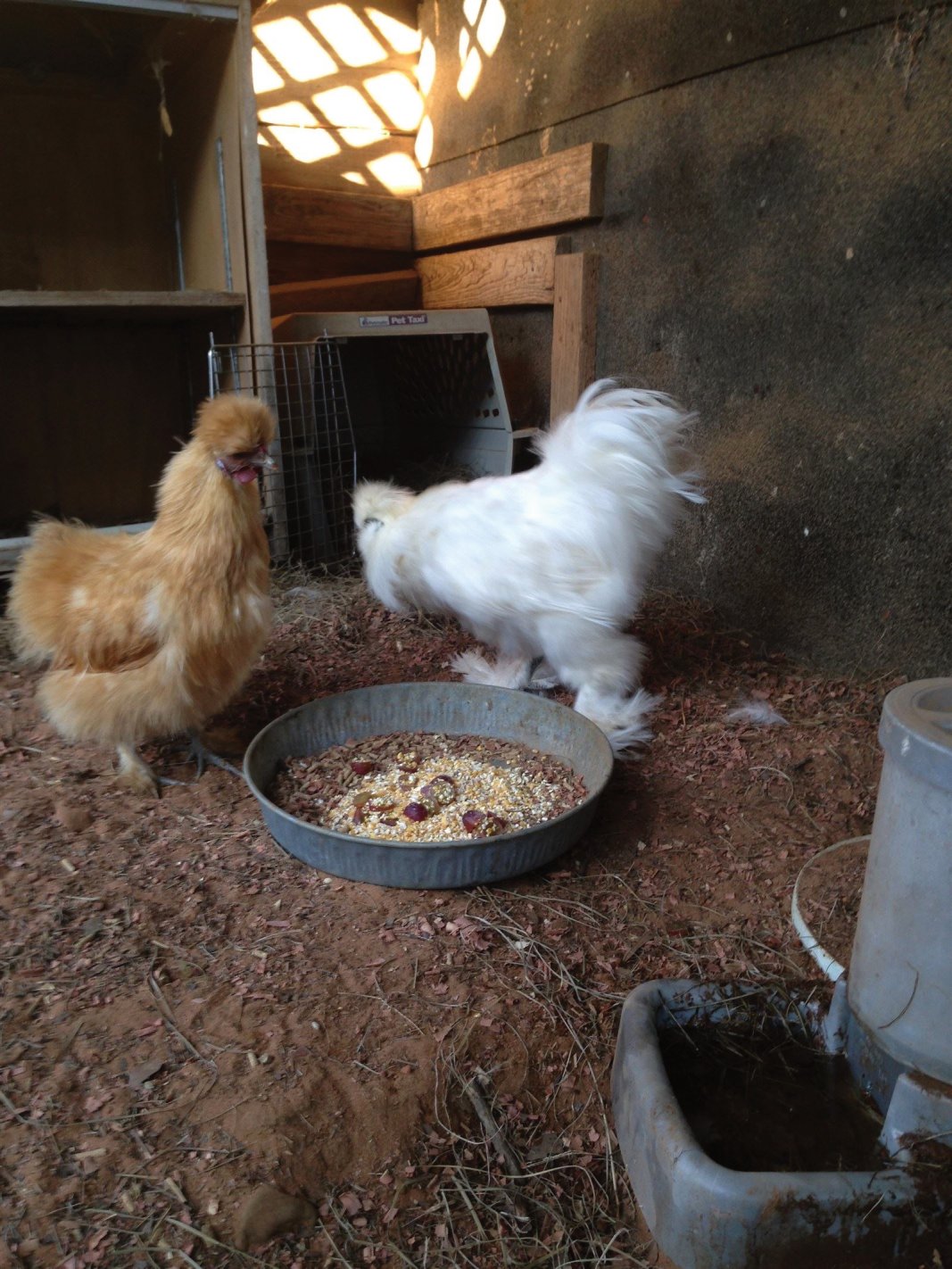 I was able to get a rooster and hen a few months back.  That has been fun.  They are very entertaining.  My dream is to get more hens so I can gather eggs. I want  a couple of donkeys, maybe a couple of goats ( I know they aren't as cute as they look) and a miniature pony.  I am looking forward to gardening too. 
          Country living is awesome.
I think I'm getting there....the simple life.  
Ricky Tanksley wrote this song about my granddaddy, Clyde Walters, on January 5, 1998.  He sang it at my granddaddy's funeral the next day.

Mr. Clyde
I married into his family.
He welcomed me with open arms.
It didn't take long 'til we were friends
and that meant so much to me.
The times we fished,
the tales you told,
I never saw you growing old.
As the years went by,
Sometimes I'd see you cry.
You knew this day was coming soon.
On this day, I lost my friend,
Jesus took you home to be with Him.
And I know He wouldn't want me to cry,
But, on this day, I have to, Mr. Clyde.
As I stand here today
With your friends and family,
I look around at all the lives you touched -
A legacy of a simple man.
On this day, I lost my friend,
Jesus took you home to be with Him.
And I know He wouldn't want me to cry,
But on this day, I have to, Mr. Clyde.
On this day, I have to Mr. Clyde
On this day, I love you, Mr. Clyde.
**************************************************************************************************************
My favorite line in this song is "A legacy of a simple man"
My granddaddy was a simple man indeed but the legacy he left will last and be remember for generations to come.
What is your legacy?
To be continued........
     Today I mourn the loss of a very dear childhood friend, Charlie Evers.  We go back all the way to 2nd grade at Marshall Elementary School. Looking back I see us along with all of our classmates running on the playground, talking about what we were going to do after school and watching the clock for the lunch bell to ring so we could get to the school cafeteria to eat those gigantic cinnamon rolls.  We were all so carefree, full of life, full of energy loving every minute of our childhood years.  Charlie, with his blonde curly hair was always trying to make us laugh.  I can still see him and Eddie Hawkins in their Sunday best at the 6th grade graduation.  I remember sitting in Mrs. Johnson's 6th grade portable on the last day of school before summer vacation and listening to Alice Cooper's record "Schools Out for the Summer".  We were headed to Junior High School.  We were so cool!
     During the junior high years Charlie and I didn't see each other much, he went to Whitten Junior High School and I headed to Peeples.  However, our friendship was rekindled in the 10th grade when we arrived at Wingfield High School for our Sophomore year.  Charlie was my buddy.  He was my encourager when I was down.  He was a shoulder to cry on when I thought my world was crumbling.  He confessed to me that he had carried a long time crush on me since the 2nd grade and was trying to forgive me for rejecting him when he wanted me to be his girlfriend back then.  I laughed, he laughed and our friendship continued.  Just friends.   He gave me the nickname "bouncer" during my junior year.  I was practicing high kicks with the Genteels in the hallway in sock feet (that was dumb) and my feet slipped out from under me as I threw my leg up in the air and Charlie came around the corner just in time for me to bust it! He never let me forget that high kick!
     As we reached adulthood,  Charlie would mentor me with so much wisdom and truth.  He would remind me of God's awesome love that was bigger than anything I could imagine.   He helped me to understand that even when I didn't feel worthy that God saw me as His child. I looked back at a message he sent me not too long ago.....it gave me peace then and it gives me peace now......"Let the peace of Christ reign and rule in your heart.  Life circumstances alone regardless of the joy will never render peace.   At the realization of pain, doubt or confusion remember, "His Grace is sufficient" pray for and rely upon His wisdom and peace.  Remember Shellie, discernment is a gift of the spirit of Christ.....claim it and wait on an answer"  Wow - so glad I have this to look back on.     
     Through Charlie's death, I am reminded just how quickly death can knock on our door.  Charlie was way too young.  I am still sitting in shock as I write this trying to let it sink in that he is gone.  We aren't promised tomorrow.  Even in his death, Charlie has once again given all of us something to think about.  Our days are short.  Make the most of them.  Love God and love people.  We have no way of knowing when our time will come to depart this world and stand before our God.  
     I can't begin to imagine what Charlie has experienced by now in heaven.  He is in the presence of His maker and creator, seeing Jesus face to face.  Seeing his mansion that was prepared just for him.  Walking the street of gold and seeing all the saints.  Talking to Noah, Moses and Abraham.  Seeing his family members who have gone on before him.   No more sorrow, no more pain.  Living for eternity in the presence of his Lord and Savior Jesus Christ.  That picture gives me comfort.  I hope it comforts those of you that knew him as well. 
     Until I see you again Charlie......Rest in Peace.
     I LOVE this picture of my granddaddy sitting down and holding a arm load of his grandkids with the rest of us that wouldn't fit in his lap gathered around him......this is the kind of granddad he was......He LOVED his grandkids unconditionally and he made sure we all knew it!!!!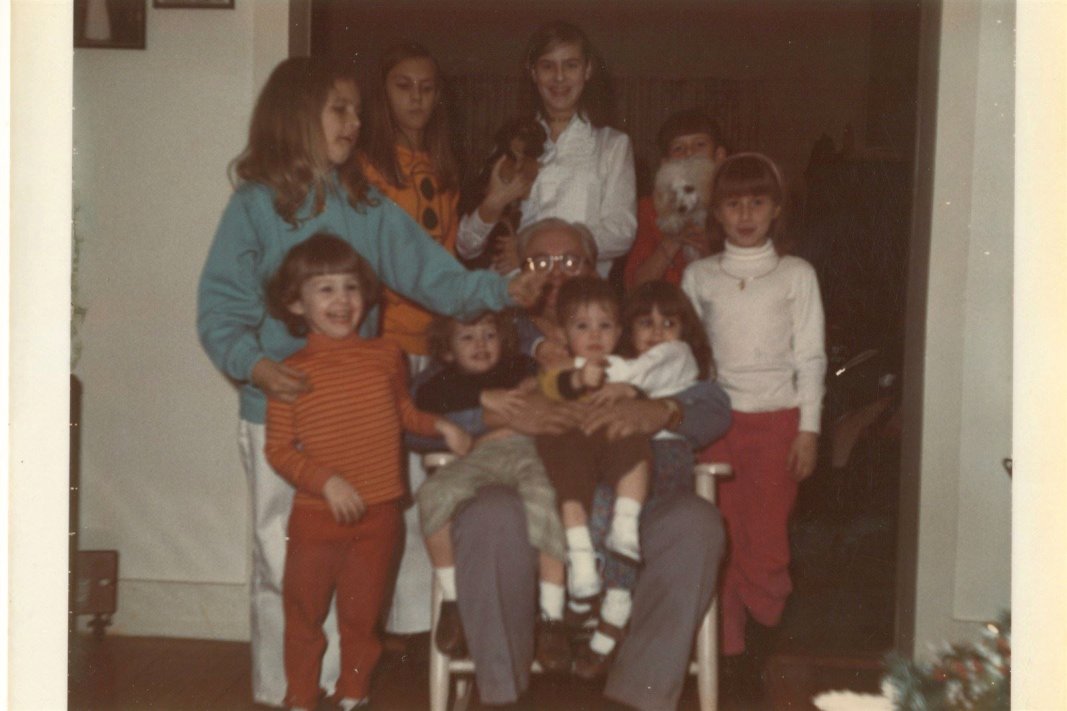 Clyde and Marie had twelve grandkids, I wanted to share their names with you....you may know some of the Walter's clan!  Terri Woods Pigford, Mike Woods, Shellie Woods Tanksley Watson, Dianna Walters Garrick, Vickie Walters Driskell, Elizabeth Walters Ray, Leslie Walters Smith, Lea Anne Walters Wiles, Stuart Walters, Sheila Walters Speights Brown, Ken Walters and Paul Walters.  When we all got together, we had SO much fun!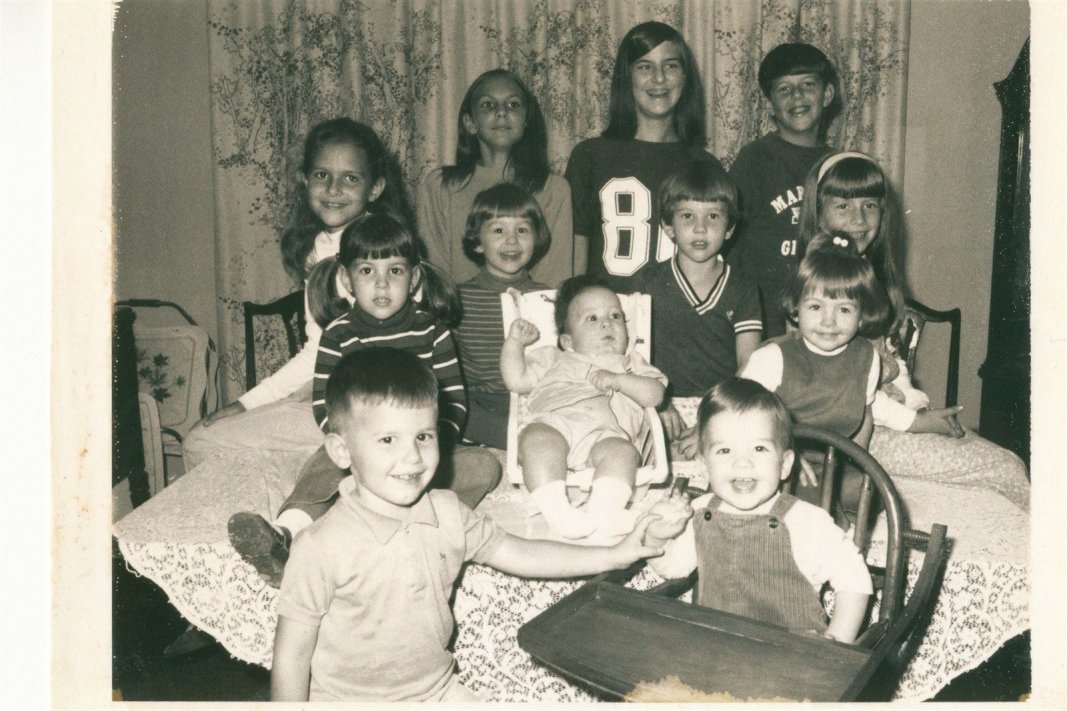 Grandmother and Granddaddy had a huge barn behind their house.  As a kid I loved to climb up in the loft and play for hours in a world of make believe.  My cousins and I would arrange the hay bales like an obstacle course.  Sometimes we would turn the loft into Ms. Nellie's country store and the bales would be the store shelves.  We could play for hours and hours with nothing but our imaginations!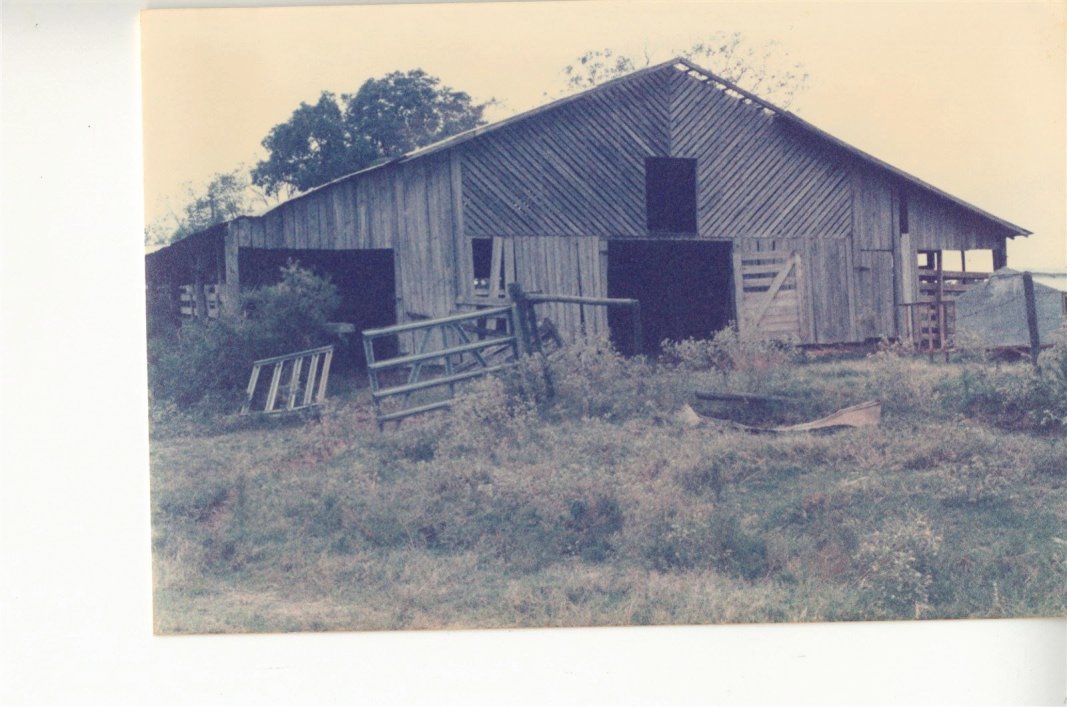 Over the years, Granddaddy would get horses for the grandkids to ride when we came to visit.  This is one of the shetland ponies that he had.  I don't remember this pony's name but it sure was cute and had the cutest little baby.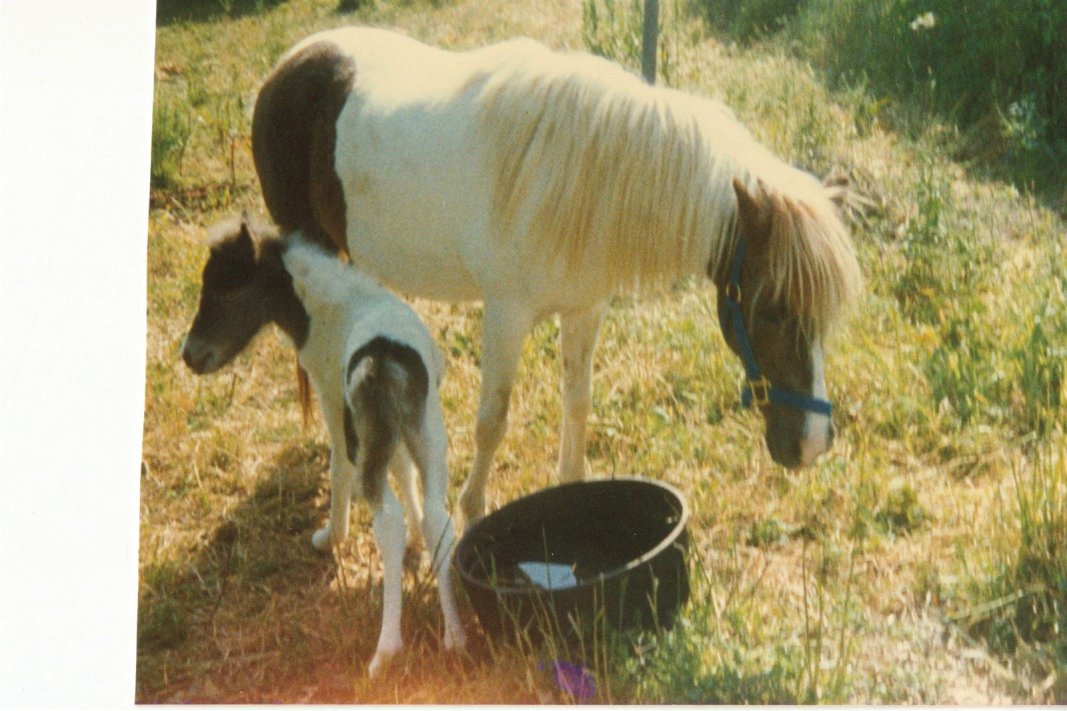 My cousin Leslie is enjoying some time with the pony and granddaddy.  We all have such great memories of the time we spent with our awesome grandparents!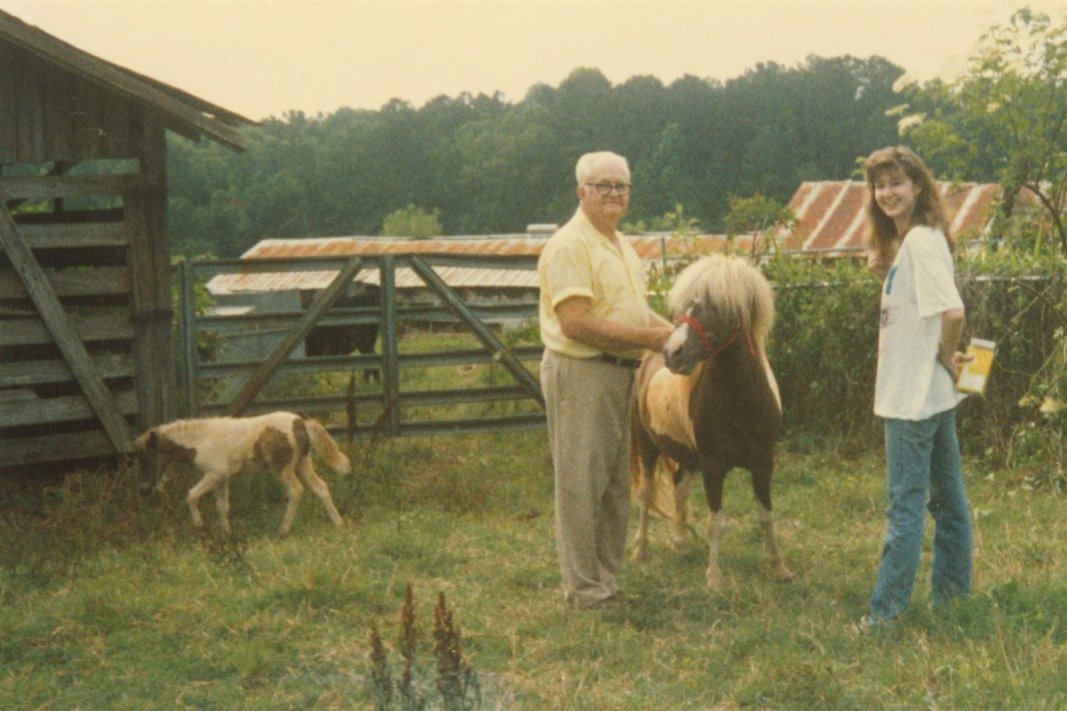 I always looked forward to my week long summer visits with my grandparents, Clyde and Marie Walters, in Steele Town, Scott County Mississippi.  It was a time that I stepped out of the life of a city girl and into the country with all the wonder and magic that their old farmhouse held.  The days were filled with fun and laughter. There was never a dull moment at their house.  I would spend time in the kitchen watching my grandmother make homemade donuts; I would pick daffodils in the yard so grandmother could make a bouquet for the kitchen table.  I'd run to the chicken house and play withthe baby chicks.  Sometimes I would spend hours digging in the old black trunk in the middle bedroom, putting on her high heel church meeting shoes or her long dresses. Then the tomboy would come out in me and I would put on my granddaddy's old britches and slide down the red clay dirt hill out back.  I loved playing with the puppies out by the smokehouse or climbing into the corn crib and playing in the old dry corn cobs.
     As the sun set and dusk settled over their place, I would chase fireflies and put them in an old mason jar that I found in my grandmother's kitchen.  I would make a wish and put them by my bedside hoping they would still be fluttering around in the morning…. I didn't get in the bed until I sat in their room in the rocking chair and watched my grandmother peel an apple for my bedtime snack.  I sat in wonder as she peeled the whole apple without breaking the peel.  We would say bed time prayers and I'd climb in the bed and drift off to sleep reminiscing the day that would soon start over again. 
     Those were the best times.  I'm so glad that my grandparents took the time to have fun with me and show me life on the farm. I wouldn't trade the memories for anything!      
/